Coastguard alert over tide dangers after Jurassic Coast rescues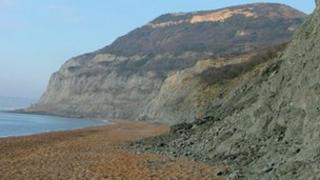 Rescues of people being cut off by the tide on Dorset's Jurassic Coast have prompted a warning from the coastguard.
The incidents within two hours on Thursday involved two young men who had climbed over a landslip area at Charmouth being airlifted to safety.
The holidaymakers aged 19 and 22 had ignored safety warning signs and were stuck by the incoming tide.
An RNLI lifeboat was then sent to rescue two men aged 24 and 21 who had become cut off by the tide in the area.
'Heed signs'
Meanwhile, a number of people trapped by the rising water at the cliffs at Black Ven between Lyme Regis and Charmouth were also picked up by Lyme Regis Coastguards.
Ros Evans from Portland Coastguard said: "We currently have high spring tides at the moment, and we have also had several areas where the cliff structure is changing due to the natural effects of the weather.
"Heed any warning signs relevant to the area. Areas of the coast that have a history of unstable cliffs have warning signs displayed for that reason."
The area which is part of the Jurassic Coast World Heritage site is popular with tourists and beachcombers because fossils are found in the area.