London 2012: Olympic fan warned over flare firing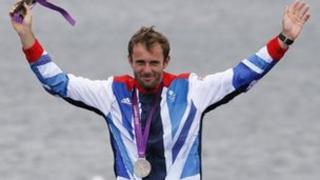 An Olympic fan in Dorset has been warned by police after flares were set off to celebrate Team GB's success.
Portland Coastguard and Dorset Police were called out after they received reports of red flares being sighted over Weymouth.
The emergency rescue flares were set off from land in Newtons Cove following Nick Dempsey winning a silver medal in windsurfing.
Police said the person firing the rocket flares was given a warning.
The firing of a red flare in a non-distress situation is illegal under the Merchant Shipping Act.
It is also an offence to use them on land.
The latest incident comes after Ben Ainslie celebrated his gold medal win in Weymouth with a pair of hand-held marine smoke flares.
A coastguard spokesperson said this was overlooked "in view of the circumstances" and it was also publicly clear there was no emergency.