More warnings over Jurassic Coast cliff landslip danger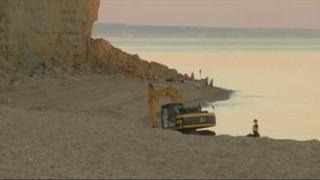 People are being reminded of the danger of landslides after a further rock fall on a stretch of Dorset coast.
The coastguard said five people escaped unhurt after a landslide on Wednesday between Charmouth and Golden Cap.
The alert was raised by the crew of a boat who saw the cliff fall and spotted the people who had ignored safety warning signs on the beach.
Coastguard rescue teams, the RNLI Lifeboat and Dorset Police reached the five who were led to safety.
The latest incident on the Jurassic Coast was around 10 miles from Burton Bradstock where holidaymaker Charlotte Blackman was killed last month.
Miss Blackman, 22, of Heanor, Derbyshire, died when she was crushed by 400 tonnes of rock that fell on her at Hive Beach in Burton Bradstock on 24 July.
'Stay away'
During the latest incident on Wednesday, a family of four refused requests by the coastguard to move away from the area despite the danger.
Ros Evans, from Portland Coastguard, said: "They were quoting their freedom and seemed oblivious to what a falling rock can do to a person.
"We don't want to ruin people's days, but stay away from the cliffs."
Additional warning signs have been put up along the coast, and public notices are being prepared for tourist information centres and other strategic points in the area.