London 2012: Spectators hurt at Weymouth sailing view point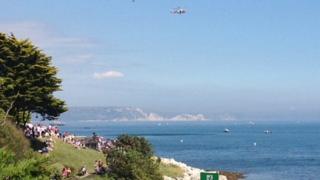 Two elderly spectators were airlifted to hospital after they were injured during the Olympic sailing events in Dorset.
The men were walking along rocks below Nothe Fort, at the Weymouth Harbour entrance, when one of them fell and knocked the other one over.
The Portland coastguard helicopter was diverted from a training flight and took them to hospital in Dorchester.
One man suffered head injuries and the other injured a leg, coastguards said.
They had been among the large crowds gathered on the headland in Weymouth to get prime views of the London 2012 sailing regatta.
Racing was suspended during the afternoon due to lack of wind, but is expected to restart on Friday.