David Langton-Gilks loses brain cancer battle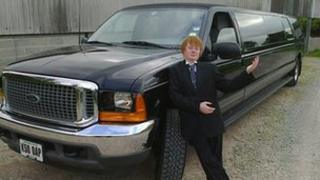 A 16-year-old boy from Dorset has died following a five year battle with cancer.
David Langton-Gilks, from Fontmell Magna, found out a couple of months ago that his condition was terminal.
He said at the time: "I've relapsed several times but now I'm kind of stuffed... you can't win them all."
His family, who joined a campaign to make parents aware of the symptoms of brain cancer, said they were determined to continue the work in his name.
In a statement they said: "Supporting the HeadSmart Campaign is the fastest way to achieve this.
"This will save the lives of some of the two coachloads of children who die horribly every year from a brain tumour and massively improve the quality of life for those children, like David, who have to endure years of complex treatment."
The eldest of three children, David had several invasive operations in an attempt to remove the tumour plus radio and chemotherapy, but the aggressive cancer spread from his brain to his spine.
He died at home on Tuesday.
One of his ambitions had been to attend his school prom before he died.
His family said he had been delighted by the limousine sent by Rays of Sunshine Charity to take him there a few weeks ago.
Sarah Lindsell, from The Brain Tumour Charity, said David had inspired many people with the help of his mother, Sacha Langton-Gilks.
"Together they have helped us raise UK-wide awareness about the symptoms of brain tumours in children and young people through the HeadSmart campaign," she said.
"His approach to his condition has touched thousands of people and we have had wishes of support from around the world."
It took six weeks to pick up David's tumour once he had started to show signs of an illness.
The symptoms of a brain tumour, which include vomiting, headaches, changes in mood and behaviour, and abnormal eye movements, are frequently mistaken for less serious illnesses.
In the UK 500 children are diagnosed with brain tumours each year - around the same number as meningitis cases.