Operatic protest at Bridport housing plans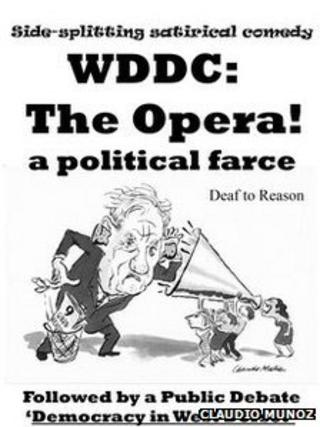 As far as protests against the local council go, this was not the usual affair.
There were no placards, slogans or marches. Instead the power of opera was used to deliver stinging retorts.
West Dorset District Council had probably not bargained for such a reaction when they agreed outline permission to develop St Michael's Trading Estate for housing.
But a group in Bridport, led by resident and human rights lawyer Clive Stafford Smith - more used to representing Guantanamo Bay inmates than taking on local authorities - made a stand through its production of A Political Farce.
The opera featured a satirical re-enactment of the public meeting where the decision was made, during which a councillor claimed his hearing device was faulty and he could not hear objectors properly.
The group is now trying to force a debate on a recall election, which gives local people the power to remove councillors.
It was a topic David Cameron raised in the run-up to the 2010 general election.
Mr Stafford Smith said: "The Conservative party and the entire coalition have committed themselves to a recall process for parliament in the coalition agreement and it makes sense to me and we need to bring it down to Dorset."
But the protesters are not satisfied at stopping there, now threatening legal action over the St Michael's decision which will see buildings of "local significance" demolished.
"There are many ways the campaign goes from here - one will obviously be litigation," Mr Stafford Smith added.
"I think there's a very realistic judicial review of the farcical decision made by the council.
"It makes you think we really have an obligation to bring much truer democracy to West Dorset."
The council has stood by its decision which it said was made after careful consideration.
Conservative councillor Ian Gardner, development control committee chairman, said: "It is up to the elected members, to take account of such representations, consider the planning guidelines and the recommendation of officers.
"But ultimately it is the responsibility of members to make a decision which in this case was to delegate to officers to approve, provided certain conditions required by members can be met.
"In high profile cases like this there is bound to be strong opinions expressed in favour of both sides of the argument and as a result it would be surprising if everyone was happy with the decisions members make."