A31 Canford Bottom roundabout cost an extra £3m to construct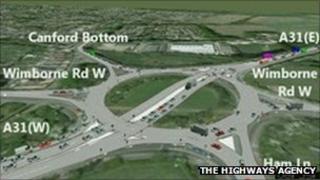 A traffic-reducing scheme in Dorset cost an extra £3m to construct than first estimated, it has been revealed.
Canford Bottom roundabout in Ferndown was opened ahead of the Olympics to ease congestion on the A31. The cost increased from £5.7m to more than £9m.
But it has been branded "a waste of time and money" by residents who say traffic problems have not been solved.
The Highways Agency said a reduced construction period from 12 to seven weeks led to the increased costs.
A spokesman said "unforeseen circumstances" including diverting major utility services also contributed.
He added that while it was "too early to judge" whether the roundabout has reduced traffic, the Highways Agency believed "there has been no significant congestion at the junction".
'Buying lightbulbs'
But some residents have complained the traffic is just as bad.
Dorset County councillor Janet Dover said she received hundreds of complaints since work started on the junction in October 2011 and dozens since it opened in June.
Issues raised range from the continuing traffic queues at peak times to the 72 sets of traffic lights that have been installed.
John James from Broom Hill called the roundabout design "a total cock up".
He added: "One wonders whether the £9m has actually been spent on buying traffic lightbulbs".
Colin Howard from Broom Hill said it was "a waste of time and money" as the junction was still being affected by traffic backing up to it from the nearby Merley roundabout.
The Highways Agency spokesman said "early indications" suggest the roundabout was "working effectively".