Wimborne Folk Festival ends after 32 years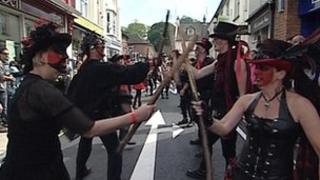 One of England's largest annual folk music and dance events is to end, with organisers blaming businesses for not supporting it financially.
A statement on the Wimborne Folk Festival website said this year's event, held in June, would be the last.
It said some businesses benefited from trade brought to the Dorset town "but give nothing in return".
The folk festival was first held in 1980 and regularly attracted crowds of up to 30,000.
The volunteer-run event was held over three days in the centre of the market town, with street dancing and live music.
June's event was headlined by Irish acoustic band Lunasa and Scottish fiddler Rua Macmillan.
'Huge shame'
Festival founder Maria Bisp said: "We went out while it was still successful. We are pleased that as amateurs were were able to achieve so much and keep up the standard."
She said the festival was costing about £35,000 to stage and the rising costs of bringing a high enough calibre of artists was proving increasingly difficult to fundraise for.
Money was raised to cover costs through sponsorship and fundraising events, street collections, admission fees and market stall charges.
Ms Bisp said some businesses were holding "fringe" events but not contributing to the festival funds.
"We're not business people, we were doing it from our hearts. There comes a time when you have to stop - we're going to miss it," she said.
Bookshop owner and former Chamber of Trade president Malcolm Angel said it was a "huge shame" the festival was not continuing.
"It's a huge benefit and brings a lot of goodwill to the town.
"There are businesses who didn't wish to contribute, but didn't wish the festival ill. But we are in the deepest recession we've known - people really are feeling the pinch."
Wimborne resident James Marshall has set up a Save the Wimborne Folk Festival Facebook page which has attracted more than 1,000 supporters.
He said he was "shocked and surprised" by the announcement and hoped the festival could continue in some form.
"We wanted to show support for the festival and hopefully find a way for it to continue.
"The festival brings in thousands of people - come rain or shine. I really don't want to see it end here."
Chris Slocock, of the Wimborne Business Improvement District, said businesses had suffered from disruption during work on The Square and the Canford Bottom roundabout, but said he hoped some sort of event could still happen.
"Some businesses liked it, others weren't quite happy. It's been a major success but maybe it's time to look at it again, evolve and find a way forward."