Body of missing Purbeck Isle fisherman Jack Craig found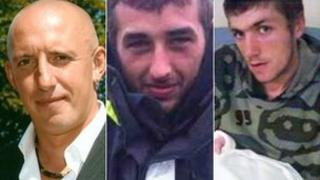 The body of a missing Dorset fisherman has been found off the Devon coast.
Jack Craig, 22, was onboard the Purbeck Isle as it left Weymouth on 17 May. Its wreck was discovered 10 miles south of Portland Bill two days later.
Devon and Cornwall Police confirmed Mr Craig's body was found by a fishing trawler 20 miles off Brixham, south Devon, on 9 August.
The body of skipper David McFarlane, 35, was found in May. Crewman Robert Prowse, 20, is still missing.
Mr Craig's body was brought to shore after being recovered by crews from Torbay lifeboat. The body was handed to the Torbay and South Devon Coroner.
He was formally identified on Friday and relatives in Weymouth were informed.