Overseas lifesavers complete RNLI training at Sandbanks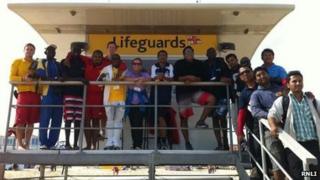 Trainee lifesavers from eight overseas rescue organisations have completed a two-week vital skills course in Dorset.
The group took part in the first ever Future Leaders in Lifesaving course with the RNLI at Sandbanks beach.
Two of the trainee lifesavers helped rescue a boy who had drifted out to sea, during a training session on beach risk assessment, earlier this month.
The programme is one of several the charity runs to develop lifesaving skills.
The 14 delegates, from countries including Cameroon, Bangladesh, and the Philippines, were based at the RNLI College in Poole.
They underwent an intensive course to equip them with vital skills to run effective coastal lifesaving services in their home countries.
World's poorest countries
Subjects covered included causes of drowning, the role of a lifeguard and equipment needed to run a lifesaving service.
Idrissa Ndiaye, from Senegal, and Viraj Ramharai, from Mauritius, helped the RNLI's lifeguards rescue the boy from the sea on 14 August.
He had been swimming in one of the marked swimming zones off Sandbanks beach but had drifted out of his depth and started to struggle.
The RNLI's international development work is self-funding.
Most drownings occur in some of the world's poorest countries, which have limited lifesaving services, or none at all, the RNLI said.
It is estimated that about 1.2 million people drown each year.