Hotweeks boss Frank Madden given suspended sentence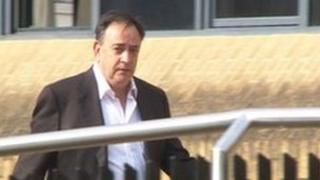 The owner of a Bournemouth-based holiday club scheme who tricked customers into signing contracts has been given a suspended jail sentence.
Frank Madden, from Bournemouth, was given six months for each of the eight counts of unfair trading he earlier admitted at Southampton Crown Court.
His sentences will run concurrently and are suspended for two years.
Madden hid details of contracts from customers until after they signed up for membership at his company Hotweeks.
He also misled customers by falsely claiming his company had been approved by the Office of Fair Trading.
Sales pitch
The court set a curfew for Madden, 55, from 06:00 to 18:00 and ordered him to pay £2,650 compensation to victims and £5,000 costs.
Southampton Trading Standards began investigating Madden after being approached by victims of the scheme.
He had given a four-hour presentation to people in offices in Oxford Street, Southampton.
They were told if they paid a sum of up to £2,000, they would get discounts on accommodation, flights and cruises - accumulating points as they went along.
Ann Hone, 72, and her husband Michael, 75, who suffers from Parkinson's disease, handed over a £500 deposit.
Mrs Hone said: "In the end we just signed because we wanted to get out. All that was in my head was the cooling-off period, but unfortunately this wasn't one."
Clive Robinson, team leader of Southampton Trading Standards, said he was aware that Madden was still trading under the web address hotweeksresorts.co.uk and that he is a director of another company called Central Marketing 2012 Ltd.
He said: "There is no licensing regime around trading so he can continue to do so but if he fails to comply with the law that custodial sentence will swing into place."