Charges over Reece Menzies murder in Boscombe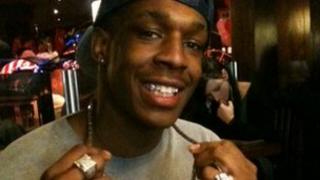 Three men have been charged in connection with a suspected gang-related murder of a man in Dorset.
Reece Menzies, 21, was shot dead after three intruders entered his home in Roumelia Lane, Boscombe, Bournemouth, on 25 July.
Three men, aged 22, 24 and 33, all from London, have been charged with murder. They were arrested in addresses in London and the Folkestone area of Kent.
They will appear before Bournemouth Magistrates' Court on Saturday.
Det Ch Insp Kevin Connolly, of the major crime investigation team, said: "The three men have been in custody for the last 72 hours and they have all been interviewed at length."
Det Ch Insp Kevin Connolly renewed his appeal for witnesses, and to anyone with information, to come forward.