Wimborne duck race raises money for town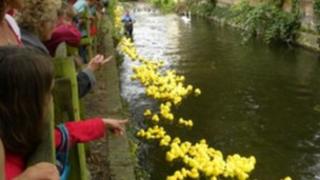 More than 1,000 plastic ducks have been raced down the River Allen in the Dorset town of Wimborne.
Organiser Anthony Oliver said the town's 13th duck race raised £1,100.
The money from Saturday's event will go towards buying plants so Wimborne can take part in the Royal Horticultural Society's Britain in Bloom campaign.
Mr Oliver said: "With the recent rains the river level was somewhat higher than in previous years and the race was one of the fastest on record."