Great Dorset Steam Fair hit by wet weather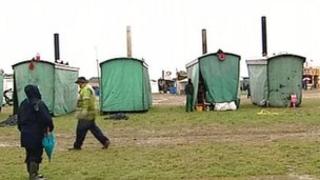 Wet weather has caused disruption on the first day of the Great Dorset Steam Fair at Tarrant Hinton in Dorset.
Displays in show's arena have been cancelled after heavy rain, in order to prevent the ground cutting up over the remaining five days of the show.
Organisers stopped vehicle movement on the site, although they stressed the car park remained open.
The event, in its 44th year, regularly attracts up to 200,000 visitors to the site in fields near Blandford.
Police have also warned motorists to expect delays at the Bournemouth Air Festival from Thursday and Dorset County Show in Dorchester from Saturday.
More than a million visitors are expected across the three annual events and police said congestion was "inevitable".
Supt Mick Rogers advised people to plan ahead, allowing extra time for journeys.
He said: "We have additional resources in the right locations and contingency plans at the ready."
He added motorists should be "particularly aware of the potential for steam fair traffic" on the A354 and Blandford ring road.
Dorset County Council has warned all non-steam fair traffic to avoid this route.