Sandbanks tree damage pair appeal against convictions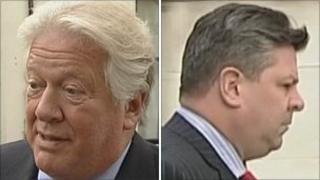 Two Dorset developers who allowed trees that blocked plans for their £11m development to be destroyed have appealed against their convictions.
Alistair Collier, 41, and Harvey Lee, 66, wanted to build the homes on land in Poole's exclusive Sandbanks area.
Last year they were found guilty of permitting or causing the destruction of five trees after the plans were blocked in 2010.
Collier, of Wareham, and Lee, of Poole, deny they were behind the destruction.
Lawyers for the pair told Bournemouth Crown Court that they had never been accused of actually cutting the trees themselves, but of causing or permitting them to be cut, and argued this made it a less serious offence.
Trees 'too close'
The judge dismissed that argument but accepted another put forward by the lawyers - that any evidence on the value of the site, or the planning history, was inadmissible as motive was not relevant in a strict legal sense.
The appeal follows their convictions in October last year when Bournemouth Magistrates' Court heard the pair paid £4.5m for the land in Banks Road with the intention of building three homes worth a total of £11.2m.
But an outline application in 2010 was refused because one of the homes would have stood too close to the trees.
A few weeks later the trees had been targeted and "ring barked" - a technique that involves slicing into a tree with a saw and removing part of the bark at the bottom of the trunk, which eventually causes it to die.
The prosecution by Poole Borough Council said specific trees, with Tree Protection Orders, had been targeted and the damage had been inflicted by someone who knew what they were doing technically.
The pair had been due to be sentenced at Bournemouth Crown Court after their convictions but that was put on hold after they lodged their appeals.
Property in Sandbanks is among the most expensive in England.
The hearing is expected to continue for two more days.