New measures to avoid Dorset school bus failings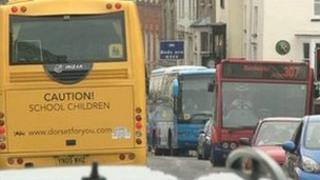 Measures to avoid a repeat of problems with Dorset's school buses are being introduced for the new school term.
Dozens of parents complained about children being left stranded after Damory Coaches took over the running of home-to-school transport in 2011.
Peter Finney, county council cabinet member for transport, said it had "learned lessons" from the problems.
Online information for parents and better driver training are among the measures put in place.
"New procedures are in place to improve the way we work with Damory and other contractors, and make sure everything runs as smoothly as possible," Mr Finney added.
The council has issued bus passes and information for parents earlier than last year and a new web page will provide updated information about any school bus delays.
Companies have also been given route details earlier and drivers given the chance to drive them in advance.
A report by the Conservative-run council revealed problems in September 2011 included late or non-existent services as well as drivers not having undergone Criminal Records Bureau checks.
It had awarded a number of new contracts for the home-to-school service in May 2011, with Damory Coaches chosen to operate the majority of routes.
Forty-one complaints were made after children were left uncollected on the side of roads.
The council report later recognised the contract was implemented too quickly.
Steve Hamilton, of Damory Coaches, said "everything is in place" for the start of the 2012 term.
"With such a large number of routes, there are occasional problems but we are confident that we have good systems in place to keep any problems to a minimum," he added.