Occupy Bournemouth protest group disbands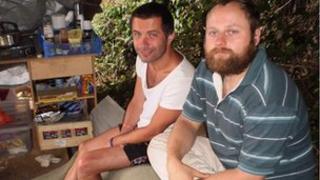 A protest group which formed almost a year ago in Dorset has disbanded, according to a statement posted on the group's Facebook page.
Activists from Occupy Bournemouth said it was "with sadness" the group's most recent encampment, off Priory Road, in the town was "packing up".
The group sited a "lack of on-the-ground support" for its closure.
The council said evicting Occupy from various sites, including the town hall, had cost taxpayers almost £10,000.
This figure includes court fees, counsel's fees, warrants and bailiff costs.
'Human interaction'
Demonstrators from the movement, which formed in October 2011, were evicted from Bournemouth Town Hall, and a site close to Sovereign Shopping Centre, in Boscombe, in November.
They returned to the town's council offices in June but left the camp prior to evictions in July.
Protesters were also evicted from Bournemouth University's grounds in March and squatted for a short time, in December, at Wessex Tales - a former vegetarian restaurant in Bournemouth.
James, a member of the group said the camp had been a place to "recall real human interaction" and get back to "real people and real living".