Purbeck marathon tests more than 200 elite runners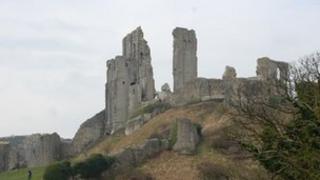 Runners have tackled a gruelling coastal course with "spectacular views" on the first-ever Purbeck marathon.
Starting and finishing in Swanage, more than 200 elite and club runners took on "a demanding course" along much of the Jurassic Coast.
Local charities will benefit from money raised through entrance fees and sponsorship.
The race started at 09:30 BST with race director Martin Payne admitting the course is not for the faint-hearted.
He said: "It only compares to the London marathon in terms of length and we've had to limit entries to hardened runners only in order to keep the course safe.
"There's a large number from the military who have entered to help with endurance training.
"Very little of the course is flat or along roads, so there's some hard climbs and uneven paths along the way. But, the spectacular views out to sea along the coastal path should distract the runners from their fatigue."
Money raised from the marathon will be distributed to local charities and good causes by the Swanage Regatta and Carnival Committee.