Ceremony to mark Poole's sea bounds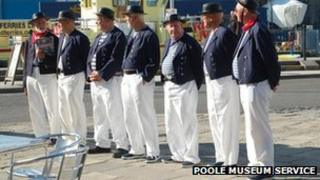 Residents of Poole, Dorset, have gathered to celebrate the Beating of the Sea Bounds ceremony.
The event, which dates back to 1364 saw the mayors of Poole and Wareham board barges with a jury to tour water boundaries in the harbour.
During the ceremony the mayors pretend to prick two children on the hand with a bodkin needle.
Known as the "points and pins" ceremony, it was intended to remind youngsters of the parish boundaries.
On its return to the quay, the mayor's flotilla traditionally comes under a mock attack by pirates who are captured by the jury and made to walk the plank.
Wareham's mayor Keith Green said: "There has always been a fantastic turnout for this spectacle, with lots of boats taking part and thousands of people lining Poole Quay to make it a memorable day."
The event which is carried out every four years came about after a dispute between Wareham and Poole over port status.
It was resolved by the Winchelsea Certificate of 1364, establishing Poole as a port and setting its boundaries at sea.
Since then, a regular Beating of the Sea Bounds ceremony, a tradition which is unique to Poole, has been held.