Dorset landslip deaths: Talks on Beaminster Tunnel's future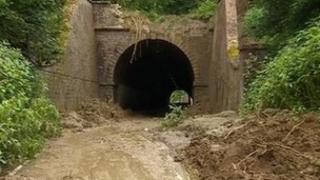 A public meeting is to be held on the future of a road tunnel in Dorset where a landslip killed two people.
Rosemary Snell and Michael Rolfe, from Somerset, died when their car was buried at Beaminster Tunnel in July.
Specialists have been investigating the site and have come up with five possible options for its future, including extending the tunnel.
They will be discussed at the meeting on 18 October at 18:30 BST in Beaminster Public Hall.
Other possible options include stabilising the slope, reducing the amount of soil on the hillside, removing the tunnel and creating a cutting, and building a bypass round the tunnel.
Dorset County Council said engineers had dug five boreholes up to 25m (82ft) deep in the hill, investigated the foundations of the tunnel entrance walls and extracted samples for further investigation.
The tunnel has been closed since the landslide blocked the road on 7 July. Engineers said there was a risk of further slips.
Councillor Peter Finney, cabinet member for highways, said: "We are working extremely hard to get the information we need to make the right choice for Beaminster Tunnel.
"With a structure like the Beaminster Tunnel, the possible solutions are not always apparent immediately."
Police investigation
Ms Snell, 67, and Mr Rolfe, 72, went missing on 7 July but it was not until nine days later that Avon and Somerset Police alerted colleagues in Dorset the couple had been traced to the Beaminster area.
The Independent Police Complaints Commission (IPCC) is to oversee an Avon and Somerset Police investigation into the way the couple's disappearance was handled.
The IPCC has said it was happy with the way Dorset Police handled the case.
Police said at the time of the landslip it was not known anyone was missing.
The A3066, which runs through the tunnel, is one the main routes through West Dorset.