Kyle Rees friends start fund-raising scheme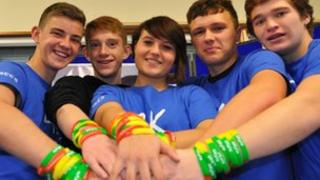 Friends of a teenager who died after being hit by a cricket ball at a school have begun a fund-raising scheme.
Five students at Avonbourne College, Bournemouth (formerly Portchester School), are selling "4 Kyle" wristbands in memory of Kyle Rees.
The entrepreneurs have produced the wristbands with £1,000 funding from Dragons Den star Peter Jones.
Funds raised will be given to Southampton General Hospital which treated the 16-year-old before he died.
Known as Team 4K, the five friends - Reece McAneny, Tom Mansfield, Sinitija Morgan, Louis Rylance and Daniel May - hope to turn the £1,000 of funding into £4,000 profit.
Reece McAneny said: "This has been a meaningful experience, which means a lot to us and feels personal because we are able to support Kyle's family and keep him in our hearts."
'Deeply touched'
Their idea has also been shortlisted in the national enterprise competition, Tycoon in Schools run by Peter Jones.
The wristbands are in red, yellow and green to reflect Kyle's love of reggae music.
Kyle's mother Tanya Cooper said: " I am deeply touched that the students want to remember Kyle in this way. It means the world to us all.
"Kyle would have loved the wristbands as they are colourful and cheerful, it is wonderful for his friends to be wearing them and raising money for such a great cause."
Kyle Rees was struck on the head in the playground by the ball on 28 February.
He was taken to Bournemouth Hospital before being transferred to Southampton General Hospital in a critical condition, where he died the following day.