Dorset weather: 'Worst is yet to come'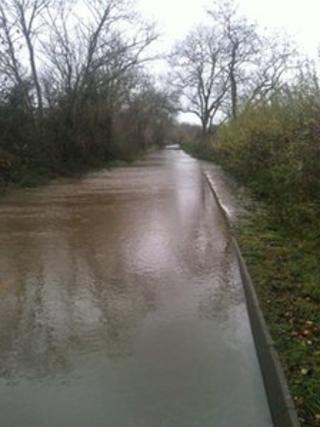 Several drivers were rescued from flood water in Dorset earlier but the county's fire service warned the worst was yet to come.
The Met Office issued a severe weather warning with high winds and localised flooding, which is due to continue into the evening, subsiding by midnight.
A lorry and empty trailer overturned on the A35 at Litton Cheney shortly before 13:15 GMT as a result of high winds.
Dorset Police said the driver was unhurt.
The road was closed for a time to allow the 15-tonne lorry and 5-tonne trailer to be recovered. It was reopened by 15:00 GMT.
A fire service spokesman said emergency services were on standby and drivers were warned to be vigilant.
Earlier, one car was pushed clear from about 1ft (30cm) of water at White Mill Bridge in Shapwick, and another driver was helped from 6in (15cm) of water at Crawford Bridge in Spetisbury, fire crews said.
A farmer helped move a car with his tractor when it became stuck in the water at White Mill Bridge.
A fire service spokesman said: "If you can get home before the worst of the weather, do so, or wait until it has passed before attempting longer routes."
On Wednesday about 20 people were rescued from floodwater.
The Environment Agency has issued flood warnings for the rivers Stour, Frome and Parrett.
They are on the River Stour from Sturminster Marshall to Christchurch and from Sturminster Newton to Sturminster Marshall, and the River Frome from Dorchester to East Stoke and from East Stoke to Wareham, and the River Parrett from South Perrott to Thorney.
More than 80 flood warnings are in place, mainly south-west England and the Midlands.