Dorset weather: Wind and rain causes disruption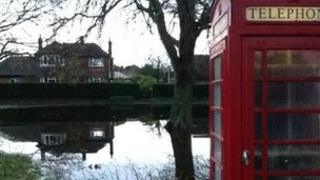 Torrential rain caused disruption across Dorset on Sunday night.
Environment Agency flood warnings for the Rivers Frome, Avon, and Stour remained in place, along with a Met Office yellow weather warning.
Dorset saw rainfall amounting to more than 25% of the average monthly total in two days, with close to 30mm falling.
The BBC reporter Laurence Herdman described "a water-laden rural landscape" around much of the county.
Homes in Sturminster Marshall were protected by a flood barrier around the village.
Resident Holly White said: "The road has turned to a river and the village green is a lake.
"Our main concern would be if the flood barrier doesn't hold - we don't need any more rain."
Flood barriers at Blandford Forum on the River Stour were also closed as waters rose.
Dorset Fire and Rescue were called four times in the past two days to reports of people getting stuck in standing water on Matchams Lane near Hurne.
Station manager Stewart Granger said: "We've experienced a lot of rain and it causes problems.
"People need to think again before they drive into standing water - there are hidden dangers and the consequences could be disastrous."
Forecasters said showers were likely to clear during Monday night.