Can you really live off the land?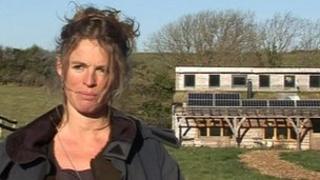 With people feeling the squeeze from the rising cost of living, a couple in Dorset said taking the leap of faith to go self sufficient was the best decision of their life.
Mark and Jean Rainbow, who have two children, have gone "off grid" and claim to live completely by their own means.
They generate their own electricity, grow their own food and breed their own animals.
They sell their produce to local shops and barter with like-minded people for their goods.
The couple bought the farm, complete with animals, in an auction in 2008 but had to commute from rented accommodation until they constructed an "eco" home over the course of a long weekend with 30 friends.
They secured retrospective planning permission for the timber-framed construction in 2010.
Mrs Rainbow, who did not want to reveal publically the location of their farm, said: "It was a huge step, we put our security on the line, we put our kids' security on the line.
The Good Life
"We leapt completely out of what was comfortable and we are doing something without any experience, any guidance.
"But this just feels right and so far it's gone extremely well."
The couple share their farm with 20 chickens, 70 sheep, six cows, a goldfish, two dogs and a cat.
They believe their method of living means they can survive in even the most testing of conditions.
Mr Rainbow added: "We would be entirely safe here.
"If push came to shove the house could even float away. We've built our own little ark."
Craig Bennett, from Friends of the Earth, said aspects of self sufficient living were creeping into modern society.
"Clearly not everyone will want to go for the full 1970s sitcom The Good Life route.
"But it does give us just the tiniest hint of the huge potential for us to have a much more decentralised energy system.
"The more we can rely on renewable energy sources rather than imported fossil fuels and grow our own foods the more resistant we are to supply shocks."