Castlepoint car park repairs 'inching closer'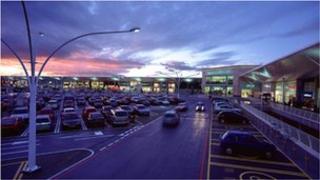 Legal wrangling over the future of a shopping centre car park in Dorset could be nearing agreement, according to the centre's operators.
Castlepoint in Bournemouth opened in 2003 but the car park has been held up by temporary props since 2005 when it was found to be unsafe.
Castlepoint Partnership has been trying to unpick a complex web of insurance and permits to get a rebuild under way.
It says agreement is "inching closer" and hopes work can begin in 2014.
Standard Life Investments manages the centre on behalf of the Castlepoint Partnership. It said the contractor that built the car park, Kier, would also carry out the rebuild project, which is expected to take four to five years.
'Very complex'
Before work can begin, legal documents must be agreed and signed - a process expected to take several months.
Mark Watt of Standard Life Investments said: "There continues to be progress but it is a very complex situation.
"It's frustrating it's taking so long but we are inching closer to the end.
"The rebuilding of the car park is the tip of the iceberg - we have been working out who is meeting the cost of each section of the process.
"There has been a concentrated period of activity over the last 12 months - it looks as if they may prove fruitful.
"A lot will depend on how long it takes to reach final agreement but a lot of it has now been agreed."