Trainers lifeboat in Poole for RNLI fundraising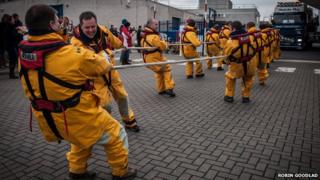 A team of 19 lifeboat crew trainers have succeeded in pulling a 37-tonne lifeboat in a Dorset town as part of a fundraising campaign.
They pulled the Mersey-class lifeboat, mounted on a low loader, for 100m to the RNLI's headquarters in Poole.
The effort was part of the RNLI's annual nationwide fundraising SOS Day.
Training manager Glen Mallen said: "We were really proud to be able to do something to support the fantastic organisation we work for".