Beaminster Tunnel soil pinning nails 'will work', says council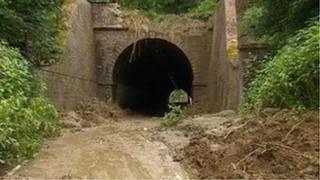 Attempts to use about 1,000 nails to stabilise slopes by a road tunnel where two people died in a landslip last summer "will work", a council has said.
Rosemary Snell and Michael Rolfe, from Somerset, died when their car was buried at Beaminster Tunnel in Dorset.
The 12m (39ft) nails will be used to "pin" the soil at the site.
Dorset County Council said tests have shown they can hold weights 1.5 times greater than the load they are expected to take at the site.
The portal arches at each end of the A3066 tunnel will also be strengthened during repair work, which began in December, and the approach walls will be anchored into the slopes with nails.
The council approved the works, which have a life expectancy of 120 years, in November after an engineers' report said soil pinning would "reduce the likelihood of future slips".
The authority said land access agreements were now required on privately owned land at the south side of the tunnel to enable the soil nailing work "to start in earnest".
It said negotiations with land owners, agents and solicitors were "progressing steadily" and said the project was "still on programme".
Once agreements are made the nail pinning work is expected to begin on the north side of the tunnel first.
It is hoped the road, which has been closed since the landslip on 7 July, will reopen by 31 May.
Ms Snell, 67, and Mr Rolfe, 72, went missing on the day of the landslip but it was not until nine days later that Avon and Somerset Police alerted colleagues in Dorset that the couple had been traced to the Beaminster area.