Wimborne Folk Festival revived by volunteers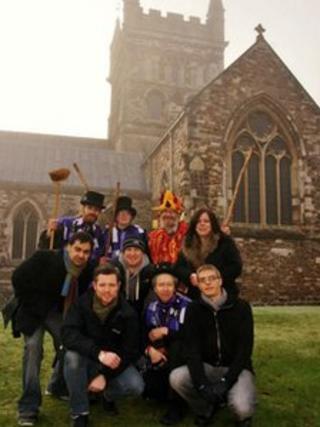 "We couldn't imagine Wimborne without the 'Folkie'", says Mike Carhart-Harris, part of the team which is reviving the Dorset town's annual folk festival.
The music and dance event had been running since 1980, but in August the couple who ran it announced they were retiring due to financial reasons and the festival would end.
But a team of locals determined to organise a 2013 festival came together after a social media campaign.
A fundraising concert is the latest part of the efforts to ensure it happens.
A meeting was held in September to sound out if the goodwill towards the "Folkie" could be turned into a plan to revive the festival run by a new set of volunteers.
Planning a festival for up to 35,000 people in less than nine months would seem a daunting task. But with less than six months to go, a programme is in place and the show is going ahead from 7-9 June.
Matti Raudsepp of East Dorset District Council said the authority was keen to keep the event.
"The festival has become an important part of the Wimborne calendar over the years, and has attracted national and international attention," he said.
'Real roots music'
The festival has booked performers from around the country, including the Albion Band and Radio 2 Folk Award winner Blair Dunlop, one of the rising stars of British folk music.
"Festivals like Wimborne are vital to real roots music in the UK.
"It was one of the most genuine crowds I played to last year and I'm looking forward to playing again in 2013," he said.
Mr Carhart-Harris said: "The reputation of previous Wimborne festivals goes before us.
"These events are dotted around the country and are very important to the thriving folk scene. It's not dying out, it's still a vibrant part of British culture and we want to see it continue."
Mike Carhart-Harris, one the committee members of the newly constituted not-for-profit organisation, admits he has little experience of other aspects of running events or even folk music.
But the chance of working on an event synonymous with his home town was too good to turn down.
"A lot of people have grown up with the folk festival and wanted to see it continue.
"It's been a challenge to get to a manageable level from a standing start.
"It's about folk, fun and family - we are committed to seeing a sustainable folk festival that involves local businesses and generates a warm, family-friendly atmosphere."
In the current economic climate, keeping this summer's event in the black is the main challenge.
'Cultural event'
Fundraising concerts, including one in in Christchurch on Sunday, and a wristband scheme have been instigated to add to the £14,000 of council support.
Organisers say this year's overall budget is still to be finalised. The former organisers cited difficulties in raising up to £48,000 for each festival, and local businesses not being fully supportive, in their decision to quit.
Mr Carhart-Harris said he was confident the festival could be sustainable in the long term.
"Ideally it'll generate a profit, but breaking even is a bare minimum," he said.
"Any surplus is reinvested but it's important it stands on its own two feet."
Mr Raudsepp said: "The council and the new festival organisers acknowledge that the previous festival wasn't popular with all local businesses.
"This is something that the festival committee hope to improve upon, so that residents, visitors and businesses can all benefit from such a popular and well attended cultural event in the town.
"Despite difficult economic times, events continue to be popular with the public, and there is every indication that this year's event will be as popular as previous ones."
Although volunteers coming together seems to show the government's "big society" in action, Mr Cahart-Harris points to the event still needing financial and material support from the local authorities and arts bodies.
"It's a big commitment and we've all given up a lot of time - it's very exciting and very rewarding to see it happen.
"It demonstrates people are willing to give up time for their community but we still need the support of public funding and we're respectful of that."