Kingston Lacy's Beech Avenue trees to be felled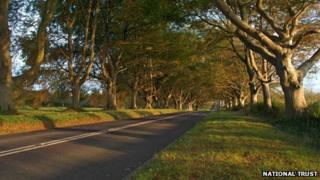 Work to fell five trees on a 180-year-old avenue has begun in Dorset.
The work at National Trust-owned Beech Avenue on the Kingston Lacy estate aims to maintain the safety of the B3082 at Wimborne Minster.
The trust said "remedial work" would also be carried out on 70 of the avenue's 500 beech trees.
It added many of the trees were dying from old age, disease, pollution and climate change. One tree was felled at the site last year.
Mr Samson, head ranger at the estate described the avenue, which originally had 700 trees planted along it in 1835, as "much loved".
He said the work would help ensure the remaining trees, which have a lifespan of about 200 years, would survive "for as long as possible".
The trust said an avenue of hornbeams, which are "more tolerant of difficult conditions", was also being planted as part of a long-term project to replace the beech trees.
The maintenance work is expected to take up to two weeks.