Dorchester car salesman Bill Board's 36-year sale log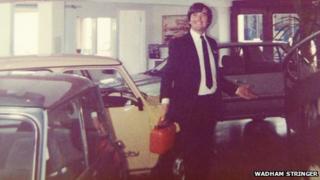 A car salesman who has been selling cars in Dorset for 36 years and could have retired two years ago says he has "no intention" of ending his career until he has clocked up his 7,000th sale.
Bill Board, from Bridport, has kept a log of all 6,650 cars he has sold since Valentine's Day 1977.
"I sold my first car - a red VW Golf - to a clergyman based in Milborne St Andrew for just £1,695," the 67-year-old said.
"I've sold Hillman Avengers, MG Midgets, Austin Maxis, Morris Marinas - the best car I've ever sold was a Rolls Royce.
Franciscan monk
"There are probably lots of people who've sold more cars than me, but I doubt they can say exactly what they sold, when and to who."
Mr Board, whose real name is Barry, said his "most unusual" customer had been a Franciscan monk based at Hilfield Friary.
"It was the early 80s and he'd traded in his three-wheeler invalid carriage for a Mini, and I was showing him how it worked," he said.
"Before I could blink he'd fired up the engine, rammed his foot on the accelerator, shot along and scraped the side of it against a wall before whipping round the corner and crashing it into another wall.
"Luckily there were no injuries but the car had just cost him about £1,400 and there was about £800-worth of damages."
The great-grandfather, who is originally from New Cross Gate, London, said the improved quality of cars had been the biggest change in the motor industry since he started his career.
'Grown men cry'
"Some of the first cars I ever sold were Mini 850s," he said.
"They were so basic - rubber seats, no radios.
"Back in those days cars didn't have air bags or power steering, and seeing someone pushing a car down a hill to bump start it was a regular occurrence.
"These days they are so much more reliable."
Mr Board, who works for Dorchester Nissan, said drivers get "very attached" to their cars.
"I've had grown men in tears in the showroom when its been time to part with their old cars.
"They've wanted to make sure they would go to a good home - like a pet."
Mervill Maclin, 84, from Christchurch, and his 81-year-old wife Cherry, have been buying cars from Mr Board since 1979.
Mr Maclin said: "We had a Vandam Plas once which was particularly fancy at the time - with a walnut dashboard, electric windows, picnic trays in the back and leather seats," he said.
"I sold it and several months later was devastated to see what must have been a farmer transporting a calf in the back seat."
Mr Board said the best part of the job was the friends he had made and the "many interesting people" he had met.
"As long as I have my health I'll keep selling cars," he said.
He added he hoped to reach his 7,000 sale target before he is 70.