Poole harbour road layout plans still to be implemented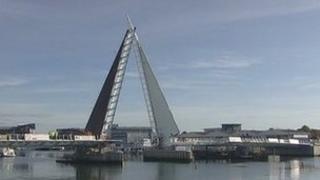 Plans to redesign the road system around a Dorset harbour are stalling, according to a local councillor.
Poole harbour's one-way system around its two bridges was recommended for urgent improvements in November.
A council select committee tabled nine recommendations after a consultant's report described it as dangerous.
Poole Borough Council's transportation team said it was looking to address the safety concerns and the issues identified.
However, Councillor Mark Howell, from Poole People Party, believes little progress has been made on the Marston Road and Bay Hog Lane road layout since November's report.
He said: "It's not acceptable and it's creating continued risk for the council while there's an ongoing problem.
"Officers haven't been getting on with the job in hand as yet. We need to see some urgent movement as experts have raised some serious issues."
The consultant's report suggested replacing the "gyratory" system with two-way roads, and providing more pedestrian crossings and signs.
Mr Howell has also put forward details of defects he has detected with the system along with a set of proposed safety measures.
The council's strategic director Andrew Flockhart said: "The safety of the public is our priority.
"The council wants to be sure that it understands all the consequences of any changes it makes. This means developing detailed proposals that will work and stand the test of time."
The economy overview and scrutiny committee is expected to receive a progress report later in the year, while a member and stakeholder meeting is taking place on Wednesday.