Dorset County Council leader Angus Campbell to step down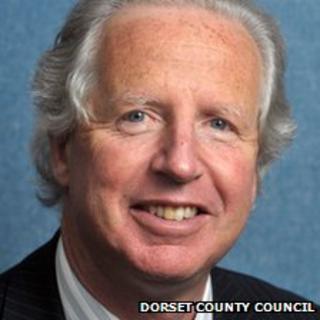 The leader of Dorset County Council Angus Campbell has announced he will not stand for re-election.
The announcement was made at the council's 2013/2014 budget meeting on Wednesday when the council voted to deliver total savings of £16.5m.
It was also revealed that council tax would be frozen for a third year.
Mr Campbell, who has been a councillor for a total of 16 years, said he was stepping down "to give someone else a chance".
New ideas
During his speech, Mr Campbell, who has been the council leader for seven years, said the authority had delivered £43m in savings over the last two years and added it needed to find a further £46m over the next three years.
About £11m of the total savings for the next financial year will come from public services, including children's services, museum grants and bus subsidies.
Mr Campbell, who was first elected as county councillor for Blandford in 1989, said he would "greatly miss" his role as a councillor.
"It is a tremendous organisation and it has been a tremendous privilege to work within it," he said.
"Like business though it benefits from the turn over of new people and new ideas."
The next county council election will take place on 2 May.