Weymouth Pavilion: Community takeover plans approved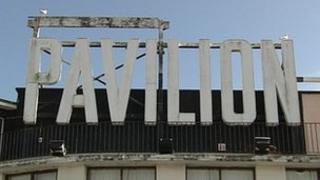 A seaside theatre has been saved from closure after a council voted to hand it over to the community.
Weymouth and Portland Borough Council voted unanimously on Thursday to lease Weymouth Pavilion. A tender process will now get under way.
The venue was under threat from demolition after the council said it had become too expensive to maintain.
The theatre and music venue was due to close as the end of May as part of council budget savings.
A council report revealed the building needs more than £3m of maintenance work over the next 10 years to ensure it remains safe.
'Work together'
Cathy Page-Nash, chairwoman of the Friends of Weymouth Pavilion, welcomed the unanimous decision.
She said: "I think that it's drawn a lot of people together.
"They realised they were going to lose something quite precious to the area.
"Hopefully everyone will work together and make it a great success - even more successful than it has been in the past - by making it into a multi-culture venue rather than just theatre and dancing."
The theatre will still shut on 31 May for legal reasons - but the venue will go out to tender with a view to being reopened as a community project.
Ms Page-Nash said: "We would have liked obviously for the pavilion only to be closed for a very, very short period because were are going into summer when obviously being a tourist town, we would like to have a theatre there for the tourists to go to as well as our own residents."