Bournemouth University's The Rock to 'improve relations'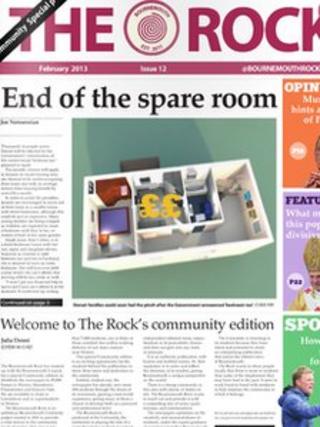 A university is publishing a "community" edition of its newspaper to improve its image to local residents.
Bournemouth University has begun delivering The Rock to more than 50,000 residents and 20,000 students.
Editor Julia Denni said she hoped it would improve relations and reduce anti-social behaviour.
Matt King, Bournemouth Council's enforcement officer, said complaints by residents about student properties had increased in the past 10 years.
He said the wards in Winton, Wallisdown and Queen's Park were most affected.
He added: "Where you get change you get challenges and that's what we're trying to address.
"A lot of family houses have been made into shared houses which has changed the face of the local area.
"We've had complaints about noisy parties, bins on pavements, and incorrect recycling.
"But a lot of residents understand the value that young people can bring to the area and this paper shows that."
'Responsible journalism'
Ms Denni, who is 22 and originally from the south-west of France, said there was an "inevitable" amount of trouble in the town centre where clubs were located.
But she added: "We really hope the newspaper will shed a new light that we are a part of the community, that it's not all negative, and that we do a lot of great things.
"We want to work hand-in-hand with residents because we belong to the community, too."
The new issue includes stories on bedroom tax, food banks, and a discussion with Reverend Robin Nash of St Alban's Church, Charminster, on gay marriage.
Ms Denni said: "Gone are the days when student newspapers were full of gossip and adolescent humour.
"This is a proper newspaper with responsible journalism. It's vital for students to be a part of the community and engage in the town where they live for up to three years."