Poole Borough Council leader Elaine Atkinson urged to resign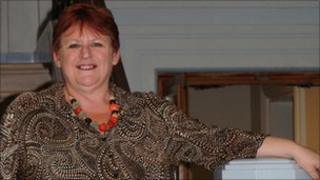 The leader of Poole Borough Council has been called on to resign after losing a vote to increase council tax.
The Liberal Democrats and the Poole People Party combined on Tuesday to defeat the Conservatives proposed 1.95% rise by 22 votes to 20.
Following the meeting, Poole People Party called on Councillor Elaine Atkinson to step down.
Mrs Atkinson said she was disappointed with the vote but she had no intention of resigning.
Mark Howell, from the Poole People Party said: "We don't want continued uncertainty. She should allow someone else to take over the reigns."
'Disappointed'
The Tory administration has fewer than half the seats on the council with 20 out of a total of 42.
Poole People Party has four seats on the council. The Liberal Democrats hold the remaining 18 seats.
Mrs Atkinson said: "I am not going anywhere. I am elected to lead this council and I believe I am the person to offer that.
"I was disappointed in the outcome of the meeting."
Three other councils set their budgets for Dorset - Christchurch voted to increase council tax by 1.95%, while Bournemouth approved a 0.7 per cent reduction and West Dorset voted for a freeze.