Boat attacked in Dorset over 'scallop turf-war'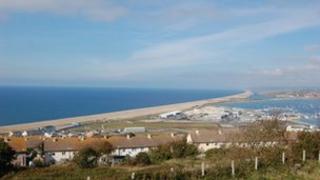 A Dorset fisherman has claimed his boat was "rammed" and pelted with rocks during a turf war-style altercation with a crew from outside the area.
Terry Studley, from Portland, has been fishing for crabs and scallops on an area of seabed called Stennis Ledges near Chesil Beach for several years.
He said the crew of a scallop dredger chased him off his "own ground" during the attack on Friday.
Police said they received a report of an altercation and were investigating.
The force helicopter was also deployed to the scene.
'Gentlemen's agreements'
Mr Studley, who has been a fisherman for more than 30 years, said he feared for his life and his livelihood and several of his pots were damaged during the attack.
"He was basically trying to ram us, and at the same time [pelting] us with rocks, chasing me off my own ground," he said.
Mr Studley has called on the marine agencies to do more to control the situation.
"Nobody owns what's on the seabed but if you've got gear on the area it's first come, first served and that's the nature of the beast," he added.
Ian Carrier, chief executive of Southern Inshore Fisheries and Conservation Authority (IFCA), which manages the marine environment in that area said it had "no powers to deal with this sort of altercation" and that it was a police matter.
He said the authority would only get involved if damage was being caused to the seabed.
"People do look after their own bits of ground if they have gear down on the seabed but the days of gentlemen's agreements between fishermen are long gone," he added.