Dorset health trust apologises for failing mentally-ill patients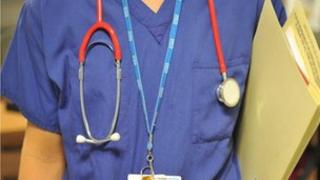 Health officials have apologised for failing mentally ill patients at an acute ward in Dorset following a damning report.
Care Quality Commission (CQC) inspectors found patients on a ward at the Forston Clinic in Charminster did not receive appropriate and safe care.
Patients were not protected against the risk of abuse or unlawful, excessive use of control and restraint.
Dorset HealthCare University NHS Foundation Trust has made changes.
Health officials shut the Minterne Ward in December, following the four-day inspection, which found the ward was failing to meet 10 vital quality and safety standards.
Orange-coloured water
Inspectors following up concerns from a previous visit saw patients left with nothing to do, empty bookcases and lounge areas with no games, newspapers or books.
Patients were not treated with consideration or respect and a ban on caffeinated drinks, aerosols and proper cutlery indicated a lack of interest in patients' dignity and personal choices, inspectors said.
Hot taps in some rooms supplied orange-coloured water, curtains were missing from some bedrooms and lounge furnishings were sparse.
Inspectors said a seclusion facility was still in use - despite being ruled not fit for purpose by the trust.
Patients were not able to make decisions relating to their care and regular reviews of people's mental capacity to consent to treatment had not taken place.
The CQC is considering whether to take further action.
'Genuinely sorry'
Ian Biggs, CQC deputy director in the south, said: "It was apparent that the ward was failing on many levels.
"Patients were not receiving appropriate and safe care because the trust didn't have effective systems in place to plan or deliver what was needed and to manage risks appropriately.
"This can't continue".
The trust has spent more than £1m on refurbishing the ward, given staff extra training, revamped how it is run and is boosting staffing levels from 23 full-time posts to more than 32.
James Barton, director of mental health services, said "substantial improvements" have been made
He added: "We believe we have put in sustainable steps. We have looked at everything from the environment to the way staff work.
"I am genuinely very sorry for what happened, but the important thing is it doesn't happen again".