Bournemouth sand moved to re-stock beach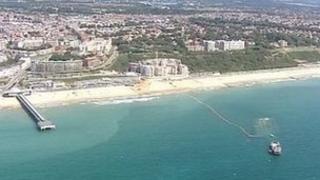 Thousands of tonnes of sand is being moved from one end of a Bournemouth beach to the other.
Work has started at Gordons Corner in Southbourne to move 3,500 tonnes of sand back westwards towards Boscombe Pier.
The sand which has accumulated through wind and wave action is being re-distributed by the council.
The authority said moving the sand was "far more cost-effective" than bringing in new material.
Five large slow-moving vehicles will track up and down the beach shifting the sand from one end to the other.
Andrew Brown, seafront operations manager with Bournemouth Borough Council, said: "Visitors using the prom won't be affected."
Council contractors expect to have the works finished by the end of next week.
Boscombe beach has Europe's only artificial surf reef made of 55 giant sand-filled bags 740ft (225m) out at sea.
The £3.2m reef which opened in 2009 has been out of action since May 2011 after it was damaged by a boat propeller.