Swanage street lights switch-off to save £150,000 a year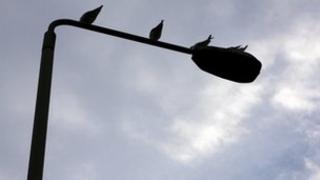 Nearly 800 street lights are to be turned off in a Dorset town as part of council plans to save £150,000 a year.
The lights in Swanage will be programmed to switch off between 00:00 GMT and 05:30 GMT from April.
Fears had been raised that changes to street lighting in Dorset would lead to a rise in crime.
But councillors said there was no evidence of more crime being reported in areas where lights have been switched off.
Street lights in Weymouth's troubled Littlemoor area were recently switched back on after residents petitioned the council.
But officials said a probe into complaints by residents that a similar switch-off had led to a rise in anti-social behaviour have proved unfounded.
A council spokesman said: "While many residents support the scheme, some feared crime would rise but there is no evidence that this has happened."
In Swanage about 200 lights will remain lit overnight on all main roads, the seafront, roads with speed humps and in the town centre.
Dorset Council contractor SSE Contracting is now changing the light sensor on each light to a timed version in the town's quiet roads.
The street lights switch-off will be rolled out across the rest of Dorset in the next year.