Osmington White Horse gets new viewing point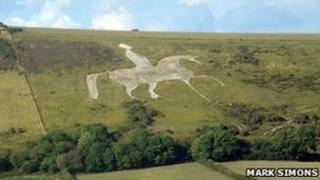 A new viewing point to make a Dorset landmark more visible has been opened.
The new parking site off the A353 gives an unimpaired view of the White Horse at Osmington along with information displays about its history.
Carved into the hillside about 200 years ago, the figure is said to be George III on his horse.
Resident Geoff Codd said: "For years I have watched people craning their necks to see over the hedgerows trying to catch a glimpse."
The opening marks the culmination of four years of work carried out to restore the 260ft (79m) figure, which had gradually degraded over time.
Royal honour
The monument was created in honour of George III, a frequent visitor to the town on his favourite grey charger.
Local people removed the topsoil to reveal the bedrock of the South Dorset Ridgeway underneath.
A failed attempt was made to revamp the figure by BBC TV programme Challenge Anneka. Inappropriate materials were used and the work degraded afterwards.
In 2010, Ms Rice apologised and offered to help repair the landmark herself.