Dorset craftsman's 40,000-piece jigsaw to go on show at Sandringham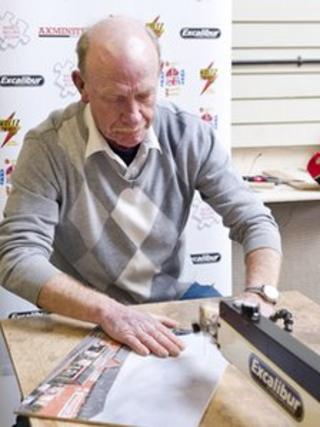 A 40,000-piece jigsaw created by a Dorset craftsman will be displayed at a royal residence from next month.
The wooden puzzle, by Dave Evans from Weymouth, will go on show at the Sandringham Estate in Norfolk from April to November.
It will feature 30 images of the Queen's Diamond Jubilee last year.
Mr Evans, who started making puzzles in 1952, said his work would break the Guinness World Record for the largest hand-cut puzzle.
Time pressure
He will start work on the jigsaw next week and it will take him at least 200 hours to complete.
Mr Evans believes he can finish the 19ft (6m) by 8ft (2.5m) puzzle and send it to Sandringham by mid April.
It will be displayed alongside 100,000 cards sent to the Queen to mark her Diamond Jubilee.
A Guinness World Records spokeswoman confirmed no record exists for the largest hand-cut puzzle, and Mr Evans' jigsaw must be at least 10,000 pieces for a new entry to be created.