Coastal pollution workshop held in Dorset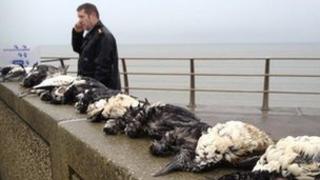 A workshop to tackle coastal pollution incidents is being held in Dorset.
The course for environmental staff comes after an oil spill in January killed hundreds of seabirds on the south coast, including 200 in Portland.
Staff are to take part in training in dealing with oil spills, cleaning beaches and using equipment such as floating booms.
Council emergency management officer Nigel Osborne said coastal pollution was "always a risk".
More than 126,000 ships carrying 354m tonnes of hazardous cargo use the English channel each year, according to Dorset County Council.
Representatives from all Dorset's local authorities, as well as the Environment Agency and Natural England are taking part in the two-day training course which has been organised by the Maritime and Coastguard Agency.
In January 2007 Lyme Bay was hit by large-scale coastal pollution when the MSC Napoli leaked its fuel and hundreds of its chemical containers were lost at sea.