Swanage pier £50k appeal after storm damage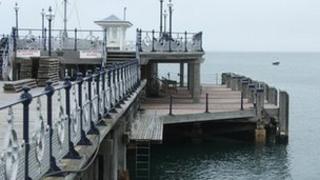 An appeal to raise £50,000 to repair a Grade II-listed Dorset pier has begun after it was damaged in a storm.
Strong winds and rough seas on 11 March damaged the mid-section of Swanage Pier so badly it was near collapse.
The section has been made safe but is closed to the public with tour boats and fishing vessels unable to use it.
The Swanage Pier Trust said the damage "could not have come at a worse time" as restoration work was about to start on another section.
'Critical' repairs
The first stage of the pier remains open to the public and the trust has encouraged people to continue to use it.
General manager Ben Adeney said having parts of the pier out of action could hit tourism in the town during the spring.
He said: "The race is on, it is critical we get it back up and running.
"We are so grateful to a number of volunteers in the aftermath who helped to brace the affected section to try and avert further damage."
Opened in 1896 at a cost of £10,000, the 642ft (195m) pier was fully restored after falling into disrepair in the 1960s.
After a £1m revamp, it reopened in 1998 and now attracts more than 100,000 visitors a year. It won the Pier of the Year award in 2012.
The trust had hoped to start restoration work on pier's south landing stage within the next few weeks.