Dog owner's tow rope rescue in Charmouth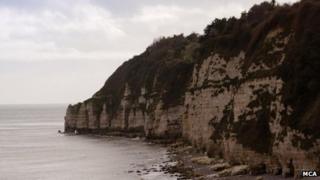 A man who used a rope to climb over a cliff to rescue his dog put himself in "unnecessary danger", a Dorset coastguard has said.
The two-year-old dog followed its ball over Stonebarrow Cliff, Charmouth and was stranded 10m (32ft) from the top.
The owner tied a tow rope to a bench and climbed over the 150m high (492ft) cliff with another person.
Lyme Regis Coastguard said: "The slightest mishap could have had catastrophic consequences".
Nobody was injured and the dog was recovered during the incident on Sunday.
Fred Caygill, from the Maritime and Coastguard Agency (MCA), urged all dog owners to keep their dogs on leads and to call emergency services if they found themselves in a similar situation.