The Shining to be screened at Burton Cliff Hotel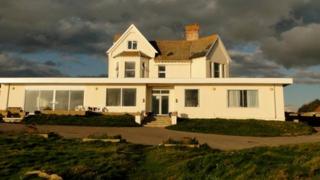 A disused hotel on a Dorset cliff top is to welcome customers once more for a screening of horror film The Shining.
The Burton Cliff Hotel, closed for five years and awaiting renovation, has been chosen by organisers of the From Page To Screen festival.
Graham Moody, chair of Burton Bradstock Parish Council, called the 19th Century building near Bridport a "well known local feature and cracking location".
It is the first time the festival is showing a film on location.
Polly Gifford, director of Bridport Arts Centre and organiser of the sold-out event, said: "It will be a very unique event and you can't get a more fitting or atmospheric setting to show The Shining.''
'Dominant landmark'
The building is one of two villas constructed on top of the cliffs as summer residences between 1885 and 1890.
They were made for the Pitt Rivers family, who once owned much of the village of Burton Bradstock.
Margaret Milree, assistant curator at Bridport Museum and Local History Centre, said: "The houses were very dominant and significant landmarks - they were originally called Alpha and Omega."
Later a guest house, it was requisitioned by the Army during World War II to house Polish escapees who had joined the RAF.
The other villa is home to Billy Bragg.
Mr Moody added: "The hotel has wonderful views, and on a clear day it feels like you can see forever.
"We'll love seeing it open again."
'Perfect setting'
The Shining was a 1980 film directed by Stanley Kubrick and based on a novel by Stephen King.
It starred Jack Nicholson as the caretaker of an isolated and empty hotel.
Jan Harlan, Kubrick's brother-in-law and executive producer of the film, is attending the event.
Mary-Lou Sturridge is the new owner of the site which is to be renamed The Seaside Boarding House, Restaurant & Bar.
She said: "Although it's a great idea and venue for showing the film, actually the building isn't very creepy - though like the movie it has recently been used as a writer's retreat and children love to stay and play there, but I don't think any had a tricycle.
"Once the building is fully rehabilitated and reopened we expect to host many more local arts events."
The renovation of the hotel, which currently has about 20 rooms, is due to start in the summer.
The nearby cliffs have been used to film ITV's murder mystery Broadchurch.
From Page To Screen takes place from 10 to 14 April. In Bridport there will be screenings of Clueless, Ghost World and Quartet.