Weymouth fisherman thought he would die after boat fall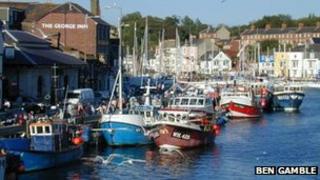 A fisherman who clung to his boat for an hour-and-a-half off the Dorset coast after part of his stern collapsed had given up hope of being rescued.
Phil Sandford, 43, from Wyke Regis was crabbing off Osmington, near Weymouth last week, when a buoy flag became stuck around his boat's propeller.
A wooden deck he stood on to untangle it broke off leaving him stranded in the water about two miles from shore.
"I thought, 'this is it I can't hold on any longer'," he said.
He made three attempts to haul himself back on to the boat.
He said: "Every time I was trying to pull my body weight up I just kept slipping.
"I was talking to myself saying you're not going to die."
'Given up hope'
He decided to save his energy, clung on to his vessel and hoped for help.
He was wearing a flotation suit, without which coastguards said his survival time would have been about 18 minutes in the low sea temperature.
After he felt his body shutting down he said he had "given up hope".
"My legs had totally gone, I could feel my heart getting slower. That's when I said I loved my girlfriend, loved my kids.
"I was starting to go into unconsciousness at that point. I thought, 'this is it I can't hold on any longer'."
'Heroes'
Mr Sandford was spotted in the water by the crew of trawler the Wahoo.
"I just had enough energy to shout help and wave my hand, they shouted that they'd seen me and came over with a life buoy."
Mr Sandford, who was treated in hospital for hypothermia, hopes to take his rescuers out for a drink when he is fully recovered.
He said: "I thank them from the bottom of my heart, they're heroes in my eyes."