Conman Alan Dykes hid Jaguar in Dorset chicken shed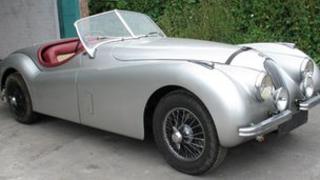 A conman caught hiding a £70,000 Jaguar in a chicken shed to prevent it from being confiscated has been jailed.
Alan Dykes was convicted of fraud in March 2011 after racking up £45,000 in hire-purchase loans on the vintage car.
He was ordered to hand it over but concealed it in the coop he rented at a Sturminster Newton farm in Dorset.
Dykes, of Lagoon Road, Poole, was found guilty of perjury and perverting the course of justice and jailed for one year. The Jaguar is to be auctioned.
During his trial in March 2011, it was heard Dykes fraudulently took out the loans under the pretence to buy the car, when in fact he had owned it since 1995.
'Pull the wool'
He was ordered to carry out 200 hours of unpaid work and an order was made for him to hand the car to police under the Proceeds of Crime Act.
When asked where the Jaguar XK120 was, Dykes made at least two statements to police claiming he no longer owned it.
He was arrested after police acting on intelligence raided the boarded-up chicken shed in August 2011 and found the Jaguar hidden inside.
He was convicted of perjury and perverting the course of justice after a trial in February.
Judge Samuel Wiggs, sentencing Dykes at Bournemouth Crown Court, made a confiscation order for £68,265.
However, that figure could change depending on what the Jaguar fetches at auction.