Monmouth Beach chalets still at risk after landslip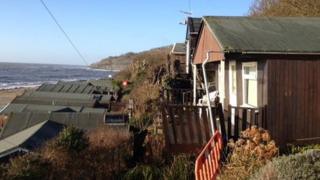 A row of Dorset beach chalets west of Lyme Regis is still under threat as concerns over land stability continue.
Nine chalets overlooking Monmouth Beach have been demolished and Lyme Regis Town Council has withheld 17 site licences since a landslip in January.
Deputy town clerk John Wright said the council "had to be cautious and for good reason" and added it had lost £39,029 in licence revenue as a result.
A man whose chalet was demolished said he also lost thousands of pounds.
'Family heirloom'
Timothy Mayers, an electrician, said it was "upsetting" to see the chalet his grandfather had erected in 1949 being torn down.
"It was supposed to be a family heirloom," he said.
He said the chalet was worth between £150,000 and £200,000 pounds but he only received £70,000 back from insurers.
He added he had to pay £8,000 to have it demolished "because the town council were involved in our licence and so we had to have a specific contract".
Mr Wright said the council had lost more than £39,000 in total income for the 2013 season "from the nine demolished chalets and the non-issuing of 17 site licences" and would discuss "impact of these losses on its overall finances" at a meeting on 27 March.
'A disgrace'
He added land surveys were now being undertaken every month instead of quarterly.
"We have had an unprecedented amount of rain in the past 10 months," he said.
"This is clearly something that was not forecast, and there are still issues with land movement."
He added the council had "advised chalet owners to move their chalets forward to protect assets".
Mr Mayers criticised the council for not being communicative enough and said he had no idea what was going on or whether he would be granted another plot elsewhere.
"I appreciate it's not the town council's fault that this has happened, but their management has been a disgrace," he said.
"They've just been looking after number one."
Mr Wright said the council was "considering a policy on prioritising the allocation of new sites to those who have recently lost sites" and that Mr Mayers was "aware of this".
The beach is about 12 miles from Burton Bradstock where a 22-year-old woman died in a landslip in July last year.