Charmouth Parish Council split in builder appointment row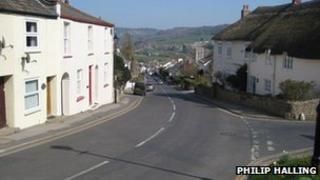 Parish councillors in a Dorset village have resigned over the way it appointed a new works manager.
Charmouth Parish Council has given the £25,000 job to local builder, Paul Sayers, who is the son-in-law of chairman Mallory Hayter.
Six of the 11 parish councillors have stepped down and said the decision was not made in an open way.
In a statement, the council said it had strictly adhered to the recruitment process.
After a meeting held in the village hall on Wednesday night, Mr Hayter told the BBC: "We live in a small community, I had no idea who the nine applicants were.
"Four were interviewed, one was my son-in-law. I'm not uncomfortable about it at all - it was done fairly.
"With hindsight, the parish council has to learn from this and move on."
'Public unaware'
Andy Peters, one of the councillors to step down said: "The whole process was closed, all of the committee should be involved in it because it was an important position we were creating.
"If you're in public office you've got to be open and honest at all times through the whole process that you are carrying out.
"The public were unaware of what was going on - that's wrong."
It has also caused anger among the parish population of around 1,800.
One resident who attended the meeting said: "If they're willing to resign there must be something about the structure of the way the decision was made to cause such a crisis."
Mr Hayter has called for the councillors to return.