Ferndown cat shot above eye with air rifle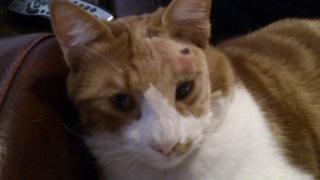 A cat which was shot with an air rifle above its eye is "lucky to be alive", the RSPCA has said.
Sandy, a one-year-old ginger, male cat from Ferndown, Dorset was found with a bullet lodged in its jaw muscles behind its left eye.
The cat underwent emergency treatment to remove the pellet and is said to be making a "good recovery".
The RSPCA described it as a "cruel and callous act" and said there had been a spate of shootings on cats in the area.
'Stiff penalties'
It has launched an investigation and the incident has also been reported to the police.
"We have learned that there have been a number of similar incidents in the local area - so we are asking people to be vigilant," said RSPCA inspector Graham Hammond.
He added the cat appeared to have been shot deliberately and said the incident had also been "very traumatic" for the owner.
The RSPCA said anyone found shooting cats with air rifles would be prosecuted and could face "stiff penalties".